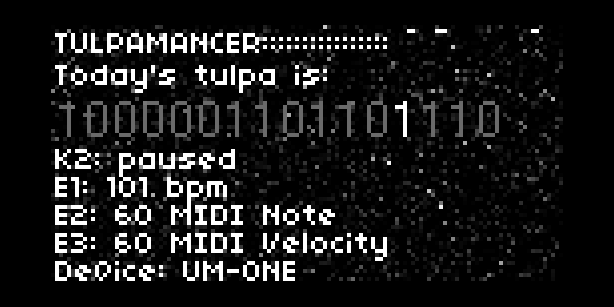 ---
tulpamancer
Every night, the kingdom crumbles. And our MIDI pattern, is conjured anew.
Share your tulpa today at: https://l.llllllll.co/tulpamancer
What is tulpamancer?
A norns script that connects to the internet and serves a new MIDI pattern each day.
Everyone gets the same pattern. Maybe it will inspire you to make a song?
How do I use tulpamancer?
Connect norns to wi-fi.
Install tulpamancer.
Connect & configure MIDI device #1 to norns.
Launch tulpamancer.
Press K2 to play. Press K3 to kill the static.
Fiddle with the encoders to change tempo, note, and velocity.
Use the pattern to inspire a song, loop, or piece of sound.
Share at https://l.llllllll.co/tulpamancer & discover what others did with the same pattern.