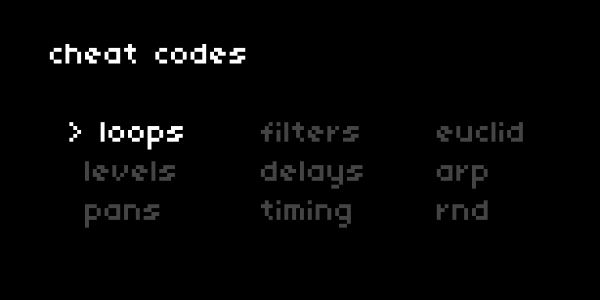 ---
cheat codes 2
a sample playground for norns
hard requirements:
encouraged (any or all):
grid (64 or 128, all editions – 256 works as well, just half)
arc 4 (works with 2, but only two banks of control)
Launchpad (X, Pro or Mini MK3) for midigrid compatibility
MIDI keyboard, MIDI button box, OP-Z (see below)
Midi Fighter Twister (template)
Max for Live (device)
crow for pad-to-trigger or Just Friends + w/ note output
---
OP-Z setup notes
you'll need to make some adjustments to OP-Z's MIDI settings, so grab a screen and navigate to the OP-Z's MIDI SETUP menus!
for globals, make only the following active:
MIDI IN ENABLE
MIDI OUT ENABLE
CLOCK IN ENABLE
CLOCK OUT ENABLE
then, you'll want to choose three tracks to control the three banks of cheat codes. how you set that up will depend on your end-goals, but make sure you take note of the midi channels for each track. if you've never edited the MIDI channel assignments for the tracks on your OP-Z, they're likely set up as 1-16 – double check in the app, though!
you may also want to disable the OP-Z feature where changing tracks make a little "preview" sound of the instrument. if you connect to OP-Z using disk mode, there's a config > general.json file you can edit. change "disable track preview" to true !
plug your op-z into norns using the USB-C charge cable. you should see OP-Z in your SYSTEM > DEVICES > MIDI list. please take note of which port it's on (1/2/3/4).
in cc2's PARAMS, go to MIDI setup :
enable MIDI control? yes
MIDI control device whatever port your OP-Z is on
enable MIDI echo? yes, this allows the encoders on OP-Z to be used like arc!
from there, you'll want to set the bank MIDI channels to match the tracks from the OP-Z. they're defaulted to 1/2/3, which on a factory-set OP-Z are the first, second, and third tracks.